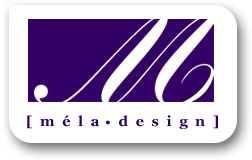 MéLa Design: A Website, Graphic, and Print Design Boutique
timeless * intuitive * solutions
Intrigued by one of our clients websites or projects? Need a website or a logo for your business? We take the time to make sure that our clients get results.
Thank you for taking the time to visit our website. Read more about us and what we believe. Take a look at the clients we've worked with. And if so compelled, send us a message or give us a call. We'd love to speak with you about how we can help you achieve your vision.
about us
MéLa Design is a full-service design shop offering specialized web, multimedia, print, and graphic design services. We provide custom-fitted packages of superior quality at an affordable price.
MéLa Design has built a reputation on providing our clients with a product that gets the results they need.
our services
Web Design and Development
Graphic Design
Logo/Identity Design
Stationery - Letterhead, Business Cards, Envelopes
Brochures, Flyers, Billboards
Promotional Mailers
User Interface Design
Information Architecture
Content Management Systems
Multimedia and Flash Development
Email Newsletters
SEO & SEO Analysis
Web Hosting
Domain Registration
and much more!
our portfolio
View a partial list of the logo & identity design, web design & development, graphic design, and print & collateral projects that we have worked on.
our clients
We take on all kinds of web design and technical projects. Here is a partial list of the clients we have worked with:
contact us
MéLa Design
Philadelphia, PA
Washington, DC
Phone:
877.253.6447
Email:
info@meladesign.net
Copyright © 2014 All Rights Reserved. MéLa Design